Personalised Parking and Civil Enforcement Vests
The use of Personalised Parking Enforcement Vests is becoming far more popular than the belt that has traditionally used in the past. As parking in built up areas is becoming more difficult to manage so the recruitment of parking enforcement officers by both private parking firms and local councils is becoming an increasingly popular way of managing and controlling parking. As technology is developing, so parking enforcement officers are becoming more independent being able, as they are, to print penalty charge notices on the spot.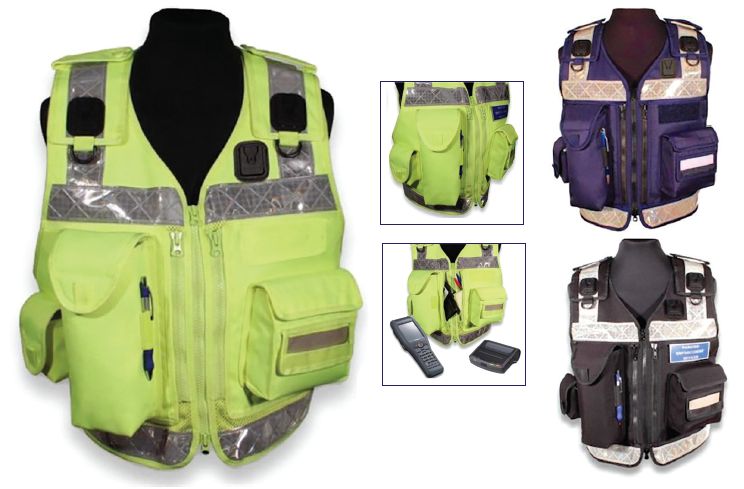 WHY CHOOSE OUR
PERSONALISED VESTS?
In House Bespoke Design
Public and Private Sector
Wide Range of Experience
The problem is that the required equipment such as handheld computers and printers, is both heavy and cumbersome, and mounting this equipment on a simple belt is becoming less viable and manageable.
The solution is parking enforcement vest which is compatible with both the widely used DPUS445 printer from Seiko and the Casio DT-X30 handheld computer.
The vest has been designed in such a way so that the printer can be operated without taking it from its pouch which reduces the risk of water ingress and accidental damage, but also it is a safe place to store the computer when it is not being used.
The Personalised Parking Enforcement Vests can be entirely bespoke to your requirements and can be adapted for different equipment, as long as the production volumes are sufficient. The vest is available in a number of colours and it can come with an additional personal CCTV dock which is Klick Fast compatible.
A large section of off-the-shelf products are also available
For further information - Please contact us on 0151 548 0144 or sales@mcproducts.co.uk
...to discuss your specific Personalised Vests requirements.